Paris Mystery Tour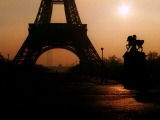 Paris CityExplorer® £89

Packing & Postage FREE*
The Paris CityExplorer® Mystery Tour is great for visitors to Paris - especially couples or families on a city break or day out, tourists or any small group of up to 5 people.
Stately boulevards, haute couture, unmistakable landmarks and inimitable style - Paris has them all. And with an incredible choice of galleries, museums, cafes, restaurants and bars, there is something for all tastes and lots of things for adults or children to see and do.
The Paris mystery tour is a self-guided sightseeing travel guide with a twist that helps you explore what Paris has to offer.
The route you take depends on your answers to a set of clues, questions and puzzles around Paris that can be tackled in any order.
There's no tour bus, no annoying headphones, no tour guide and no strangers to sit next to. Instead, we supply you with a map and a series of conundrums that send you on a journey of discovery of Paris past and present.
Your route could take you to see the Eiffel Tower, Notre Dame Cathedral, the Pompidou Centre and its Modern Art collection, river life on the Seine, the Louvre (the world's richest museum) and more - but what you actually end up seeing is up to your clue cracking and puzzle solving abilities!
Wherever you go, it's a fun way to get your bearings, enjoy some sightseeing, discover hidden corners, pick up interesting facts along the way and start to get a flavour of the history, architecture and people of Paris.
The Paris CityExplorer® Mystery Tour is set up ready for you to do independently. The mystery tour's unique flexible format means that you can choose where to start and finish and how long you want to take - so that it fits with your schedule, your other activities and where you're staying.
Key features
Enjoy Paris. See what's worth seeing in Paris both on and off the beaten track and have fun doing it.
Flexible. Start and end whenever and wherever you want and take as long as you want to fit your other plans.
Stay together. Enjoy your Paris Mystery Tour as a unit. Any number of people up to 5 is fine - please don't consider more than five as it just won't be physically possible to share the clue booklet and this could end up spoiling your enjoyment.
Easy to run yourself. We provide some simple instructions.
Everyone gets involved. A wide range of clues to suit all abilities.
Up-to-date. The Paris Mystery Tour is researched in detail and regularly reviewed to keep it fresh, current and interesting.
Buy securely online. All major credit & debit cards accepted. We also take cheques.
Free delivery in the UK*. The Mystery Tour pack contains a map, instructions and a set of clues, plus we provide a set of sealed answers. Several delivery options are available including free UK postage as standard. Mystery Tours can also be despatched worldwide by Air Mail.There is a Fast Track option if you need to get your Mystery Tour urgently.
Quality service and support. X Marks The Spot is only ever a phone call or email away before, during and after your Paris mystery tour.