CityExplorer® Mystery Tour Gift Vouchers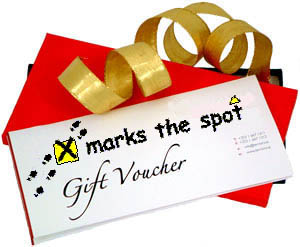 CityExplorer® Gift Voucher
Any value from £10 to £100

Need a special birthday present, Christmas gift idea or thank-you for a loved one friend or colleague - but haven't a clue what to get?
When it comes to clues, people come to X Marks The Spot™.
A CityExplorer® Gift Voucher is a simple and effective way to give something that little bit different. Even the person who seems to have everything will be impressed!
The voucher is redeemable against any of our 16 CityExplorer® Mystery Tours - which are fun self-guided sightseeing experiences with a twist for up to 5 people to enjoy together.
These unique travel guides are made up of treasure hunt type clues and puzzles that let you explore and discover a city or town in a truly different way.
Guaranteed to get a family or small group out and about, exploring and having fun.
The voucher holder can share the CityExplorer® experience with 4 family members, friends or colleagues (and that might just include you!).


How the vouchers work
The recipient of the voucher is free to choose where and when they wish to redeem the voucher (within its period of validity).
These gift tokens come in £1 denominations so you can give ten or more if you wish, up to the full value of a CityExplorer® Mystery Tour experience (Prices start at £89).
As you can set the exact amount you want to give from £10 upwards, the vouchers are suitable for everything from the office Secret Santa to hen showers, Christmas presents, birthdays, wedding anniversaries, thank yous, prizes, awards and corporate incentives.
Vouchers can be personalised with a special message of your choice of up to 100 characters, e.g. "Happy Birthday Julie, I'm sure you and the family will have fun doing this on holiday. Love Sandy XX".
Vouchers are valid for 6 months from date of issue, giving the voucher-holder plenty of time to choose a preferred CityExplorer® Mystery Tour, get the family or a few friends together and make travel plans. Vouchers contain instructions on how to redeem and are easy to redeem directly through X Marks The Spot.
CityExplorer® Mystery Tours take place in some of the UK & Europe's most vibrant cities and towns. We keep abreast with the pace of change in such dynamic locations and as a result, voucher holders benefit from getting the most up-to-date version of their chosen mystery tour when they redeem, irrespective of when the voucher was bought.
Whether the person receiving the CityExplorer® Gift Voucher is on a first visit to their chosen city or an umpteenth - something new to explore always awaits.
And whether you're saying 'Happy Birthday', 'Congratulations', 'Merry Christmas', 'Thank you', 'Surprise!' or 'Well done', the gift voucher you give goes towards reserving a unique and memorable experience and fun day out.