Treasure Hunts in Edinburgh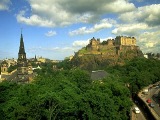 Edinburgh's natural peaks, man-made monuments, neo-classical architecture and imposing castle give the city character. Add to that a thirst for culture - at its height during the annual International Festival in August - and the atmosphere is complete.
X Marks The Spot offers an exciting range of treasure hunts in and around Edinburgh for work colleagues, friends and family - whether team building, partying, fund raising or sightseeing.
Ready made or Bespoke, Self-run or Fully facilitated - explore our product range below to find the treasure hunt in Edinburgh that best suits your group, occasion, needs and budget.


CityExplorer® Mystery Tour Edinburgh
ReadyCityGo® Challenge Edinburgh
MadeToMeasure®
Treasure Hunt Edinburgh
OutSmart®
Interactive Hunt
Edinburgh
Best for
Couple, Family,
Up to 5 people
Parties, Groups Clubs, Teams
Any - especially corporate groups or special occasions
Any - especially corporate groups
Location
City centre
City centre
Anywhere in Edinburgh
City centre
Duration
2-3 hours
2-3 hours
Any
60, 90 or 120 minutes
Transport
Foot
Foot
Any
Foot
Clues
Set
Set
Bespoke optional
Set
Theme
No
No
Optional
No
Style
Paper
Paper
Paper, Smartphone, Online
Smartphone
Branding
No
Optional
Optional
No
Prizes
No
No
Optional
No
Ancillaries
No
No
Optional
No
Management
Self run
Self run
Self run or Facilitated
Remotely facilitated
1 team
£69
n/a
From £349
n/a
2 teams
n/a
£179
From £399
From £249
Further teams
n/a
£60 each
From £100 each
From £100 each
Find out More
& Buy online
Find out More
& Buy online
Find out more &
get a free quote
Find out More
& Book online
Enquire about a Hunt
Testimonials

"The aim of our Copenhagen Treasure Hunt was to build teamwork amongst individuals across the globe who work together, but only usually communicate by conference call and e-mail. We're a competitive bunch. Planning, leadership, problem-solving and decision making skills were put to the test with an interesting mix of questions, locations and puzzles! Good fun was had by all"