Treasure Hunts in Athens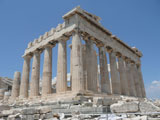 An archaeologist's dream - Athens' greatest attractions are the ancient sites of its Golden Age and its copious cafes.
X Marks The Spot offers an exciting range of treasure hunts in and around Athens for work colleagues, friends and family - whether team building, partying, fund raising or sightseeing.
Ready made or Bespoke, Self-run or Fully facilitated - explore our product range below to find the treasure hunt in Athens that best suits your group, occasion, needs and budget.
ReadyCityGo® Challenge
Athens
MadeToMeasure®
Treasure Hunt
Athens
OutSmart®
Interactive Hunt
Athens
Best for
Parties, Groups Clubs, Teams
Any - especially corporate groups or special occasions
Any - especially corporate groups
Location
City centre
Anywhere in Athens
City centre
Duration
2-3 hours
Any
60, 90 or 120 minutes
Transport
Foot
Any
Foot
Clues
Set
Bespoke optional
Set
Theme
No
Optional
No
Style
Paper
Paper, Smartphone, Online
Smartphone
Branding
Optional
Optional
No
Prizes
No
Optional
No
Ancillaries
No
Optional
No
Management
Self-run
Self-run or Facilitated
Remotely facilitated
1 team
n/a
From £349
n/a
2 teams
£199
From £399
From £249
Further teams
£70 each
From £100 each
From £100 each
Find out More
& Buy online
Find out More
& Get a free quote
Find out More
& Book online