Treasure Hunts in the London South Bank area
Indoor events & outdoor challenges on London's South Bank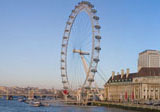 London's South Bank has amazing variety. Somehow a cathedral, prison, former power station, concert hall, open-air theatre, tall ship, Ferris wheel and fruit and vegetable market all happily coexist. Architectural styles range from Art Deco to industrial and 1950s concrete to modern steel - and the ten bridges that cross the river Thames are as diverse in design as the traffic that travels across and beneath them.
X Marks The Spot offers an exciting range of treasure hunts in and around Bankside - or indoors - for work colleagues, friends and family - whether team building, partying, fund raising or sightseeing.
Ready made or Bespoke, Self-run or Fully facilitated, for 2 people to 200 - explore our product range to find the treasure hunt on the London South Bank that best suits your group, occasion, needs and budget.