Dublin Treasure Hunt
off-the-shelf self-run package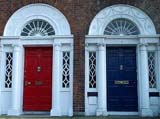 Dublin ReadyCityGo®
From £249 for 2 teams
Additional teams £80 each
(max 5 people per team)
Optional 'Branding' £30 one-off
Postage & Packing FREE*

The Dublin ReadyCityGo® Challenge cleverly solves the dilemma of what to do in Dublin for a hen party, stag weekend, group visit, birthday celebration, anniversary, social get-together or team building day out, especially if your budget is limited.
Can your team be first to work out the best route around Dublin, solve a cunning mixture of clues, puzzles, tasks and questions at Dublin landmarks and hidden corners, then crack the final code?
The Dublin ReadyCityGo® Challenge is set up ready for you to run independently. The hunt's unique flexible format means that you can choose where to start and finish and how long you want to take - so that it fits with your schedule, your other activities and where you're staying or meeting.
Key features
Enjoy Dublin. See what's worth seeing in Dublin both on and off the beaten track and have fun doing it.
Flexible. Start and end whenever and wherever you want and take as long as you want to fit your other plans.
Compete or Stay together. Run a Dublin Treasure Hunt in teams or do it as a group. 4 people per team is ideal - don't consider more than 5 people as everyone will not be able to share the clues and take part fully. You will need one pack per team.
Easy to run yourself. We provide some simple instructions, allowing the 'organiser' to take part too.
Everyone gets involved. A wide range of clues to suit all abilities.
Extend as you wish. Use your own imagination to add on some 'relevant' items to collect along the way or wacky photos to take to make it even more fun your group.
Make your event unique. Name your treasure hunt and provide a personal photo or company logo and we'll put these on the team packs for a small supplement.
Up-to-date. The Dublin treasure hunt is researched in detail and regularly reviewed to keep it fresh, current and interesting.
Buy securely online. All major credit & debit cards accepted. We also take cheques.
Free delivery in the UK*. Each team pack contains a map and set of clues, plus we provide the instructions for the organiser and a set of sealed answers. Several delivery options are available including free UK postage as standard. Treasure hunts can also be despatched worldwide by Air Mail.There is a Fast Track option if you need to get your treasure hunt urgently.
Quality service and support. X Marks The Spot is only ever a phone call or email away before, during and after your Dublin treasure hunt.