Students on course for Red Nose Day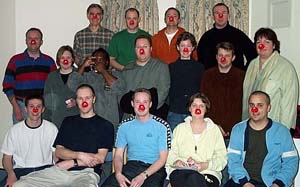 Mature students from Bracknell & Wokingham College grasped the opportunity of Red Nose Day to inject some light-hearted fun into a serious residential study weekend in Bath.
The students were in Bath as part of their coursework towards a Certificate in Management Studies. A module of the course covers the skills and theory of teamwork and Senior Lecturer Tony Dodd was keen for his students to apply in practice what they had learned in the classroom.
Tony contacted X Marks The Spot with an idea for a fun semi-competitive outdoor team event and together we devised a full day of activities designed to test planning, problem solving, decision making and communication within teams while consolidating the course material and the students' understanding of effective team working.
The day started with a recap of team building theory at the Bath University campus where the group was staying. The group then split into four teams to tackle a MadeToMeasure® treasure hunt of Bath. Armed with a set of clues, map, camera, phone and a sum of money the objective was to complete a series of team challenges and solve a number of clues posed around Bath to score as many points as possible in 3 hours. Teams also had to get into Bath and back as economically as possible and collect specific items along the way while spending as little of their given money as possible for maximum return. Being Red Nose Day, the treasure hunt naturally had a Comic Relief twist as well.
X Marks The Spot manned a phone-in Help Desk throughout. Teams had to reach consensus as to whether or not to trade some of their precious points for this help - another good exercise in team work, communication and strategic thinking.
The breathless teams returned on a high, hurriedly finishing off and submitting their answer sheets before the deadline.
The answers were marked while participants enjoyed a well-earned lunch.

After lunch, each team evaluated their own collective performance against a number of parameters, and then gave a short presentation to the group to answer:
What was your team's approach to the problem?
What roles did your team adopt and why?
How effective was your team? Give examples and share what people said and did.
What might you do differently next time?
To conclude, X Marks The Spot and the course lecturer facilitated a lively and constructive group session that drew out many valuable learning points and which gave some tips and insight into how the challenge could best have been tackled.
The event was closed by Tony Dodd who said "The treasure hunt is a very effective tool." that has really contributed to "..a fun, instructive and successful day".
Prizes were awarded but everyone agreed that the real reward was what they had learned from the day and the fact that the unspent team money from the treasure hunt was donated to Comic Relief.
Fancy something similar? Find out about treasure hunts for students or treasure hunts for charity or treasure hunts in Bath.
CityExplorer®
Mystery Tour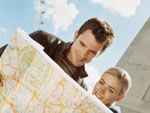 Off-the-shelf, self-guided city sight-seeing with a twist for up to 5 people to enjoy together.
ReadyCityGo® Challenge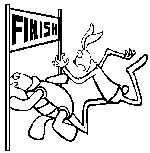 Off-the-shelf, self-run treasure hunt challenge for 2 or more teams in 40 cities in the UK & Europe.
OutSmart®
Interactive Hunt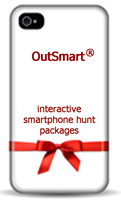 Unique high-tech treasure hunt packages for corporate team building and fun outside work.

Exclusive to X Marks The Spot.
MadeToMeasure® Treasure Hunts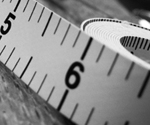 Customised for any occasion, any number of people in any location indoors or out.

On paper or mobile device.

Either run the treasure hunt yourself or let our experts manage it all from start to finish.