Rogue Trader hunted down by Mobile Phone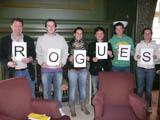 Blackberry and chocolate may seem an unusual combination, but it meant victory was sweet on a team building weekend in Belgium - as petroleum traders from Shell used their BlackBerry® smart phones to ensure a 'rogue trader' got his just desserts in Bruges.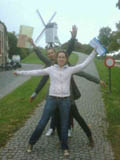 The finger of suspicion was pointing at a refinery in The Netherlands where it was believed that money from unauthorised trading in petrochemicals may be fuelling a lavish lifestyle for one of its traders.
Six 'insider suspects' had been identified from a rogues gallery and the pressure was on for four teams to flush out the rogue.
A frantic chase around Bruges ensued. Clues were drip-fed to teams via their smartphones while out and about, leading to a mad scramble to be first to collect the photographic evidence, piece together the identity of the rogue trader and establish how much the unscrupulous dealer had cost the company.
It was great interactive fun and the incentive of seeing their performance on a live league table throughout meant that some teams were almost as unscrupulous as the rogue trader they were seeking!

"I was very impressed by how well organized your treasure hunt was and how much insight you had into our industry and jargon. The team really had a lot of fun, thanks to all your great work."
Claire Pontal, Trader, Royal Dutch Shell plc
Fancy a high-tech challenge? Find out about exciting interactive treasure hunts for smartphones
CityExplorer®
Mystery Tour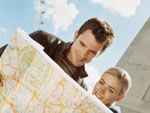 Off-the-shelf, self-guided city sight-seeing with a twist for up to 5 people to enjoy together.
ReadyCityGo® Challenge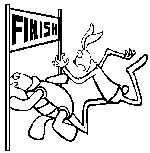 Off-the-shelf, self-run treasure hunt challenge for 2 or more teams in 40 cities in the UK & Europe.
OutSmart®
Interactive Hunt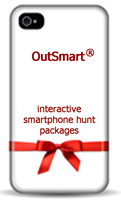 Unique high-tech treasure hunt packages for corporate team building and fun outside work.

Exclusive to X Marks The Spot.
MadeToMeasure® Treasure Hunts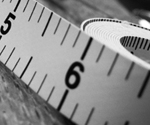 Customised for any occasion, any number of people in any location indoors or out.

On paper or mobile device.

Either run the treasure hunt yourself or let our experts manage it all from start to finish.