Fairy tales from Denmark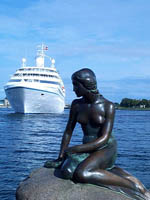 Once upon a time, there were 45 Human Resources Managers from Microsoft who were planning a conference in Copenhagen.
"What shall we do?" said Bill, a bit perplexed. "Three days in Copenhagen strategising about teamwork and we won't even get to see the Little Mermaid".
"I agree" said Nina. "Tied to our desktops with only Internet Explorer to keep us company".
"That's it!" exclaimed Lindsey gleefully. "Why don't we combine the lot! We could explore in teams around Copenhagen and multitask with some strategic thinking at the same time?"
"Sounds great in theory", said Bill, "But we'll need expert help to design something special... and that won't be easy to find", he added ruefully.
Bill had clearly realised that for once rebooting simply wasn't the answer.
Two days went by as they looked for help. They searched high and low, even on MSN. Suddenly, Bill exclaimed "We're here! X Marks The Spot".
The rest is history.
In a storyline that Hans Christian Andersen himself would have been proud of, our humble group of HR managers gave a fairytale performance in their Copenhagen treasure hunt.
But how the winning team discovered the secret entrance to the storywriter's former home behind the electrical appliances of a well-known Copenhagen department store, remains a mystery….

Mike Emery, International Staffing Operations Program Manager at Microsoft confirmed that everyone had benefitted from the day: "The aim of our Copenhagen Treasure Hunt was to build teamwork amongst individuals across the globe who work together, but only usually communicate by conference call and e-mail. We're a competitive bunch. Planning, leadership, problem-solving and decision making skills were put to the test with an interesting mix of questions, locations and puzzles! Good fun was had by all."
Consequently, Bill, Lindsey and Nina lived Happily Ever After.
The End.
Find out about team building treasure hunts or take a look at treasure hunts in Copenhagen