Christmas Corporate Incentive trip to London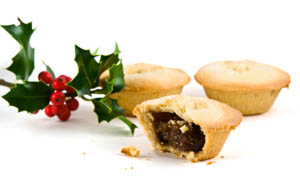 A tailor made Christmas treasure hunt around London's West End provided a fun and enjoyable activity for winners of a corporate incentive programme and their partners.
The French-speaking group of journalists from the southern Belgium newspaper Sudpresse were met as they stepped off the Saturday morning Eurostar at London St Pancras railway station to be transferred by private coach to their central London hotel to check in.
Keen to experience London at Christmas and to see London's Christmas lights the group was soon back on the coach. En route to Covent Garden the treasure hunt was revealed. Amid shrieks of excitement, the 36-strong group was split into teams of two couples and the finer points of the rules were explained by an interpreter before the teams were dropped off near the Piazza.
Given the literary interests of the group and season, the treasure hunt was themed around the Charles Dickens' classic, A Christmas Carol.
Undeterred by the heaviest snowfall that Central London had seen for decades, teams tackled festive clues and scavenged a fun set of Christmas-related items.

Between them, teams managed to visit Trafalgar Square's traditional Christmas tree, kiss under the mistletoe in Covent Garden, sing Christmas carols at St Martin in the Fields church, visit Santa in his grotto, shop for toys in Hamley's, eat mince pies, drink mulled wine and enjoy the Christmas lights of Regent Street and Oxford Street.
Back at the hotel the teams swapped stories over a traditional English lunch of pie and mash and as the buzz and jollity continued the answers were revealed in English and French and prizes awarded to cries of Magnifique and Bravo.
Fancy something similar in a location to suit you? Find out how to get a custom made treasure hunt or read about treasure hunts with a Christmas theme.
CityExplorer®
Mystery Tour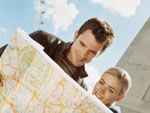 Off-the-shelf, self-guided city sight-seeing with a twist for up to 5 people to enjoy together.
ReadyCityGo® Challenge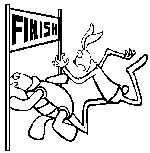 Off-the-shelf, self-run treasure hunt challenge for 2 or more teams in 40 cities in the UK & Europe.
OutSmart®
Interactive Hunt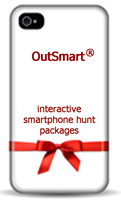 Unique high-tech treasure hunt packages for corporate team building and fun outside work.

Exclusive to X Marks The Spot.
MadeToMeasure® Treasure Hunts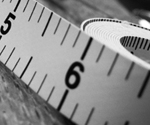 Customised for any occasion, any number of people in any location indoors or out.

On paper or mobile device.

Either run the treasure hunt yourself or let our experts manage it all from start to finish.